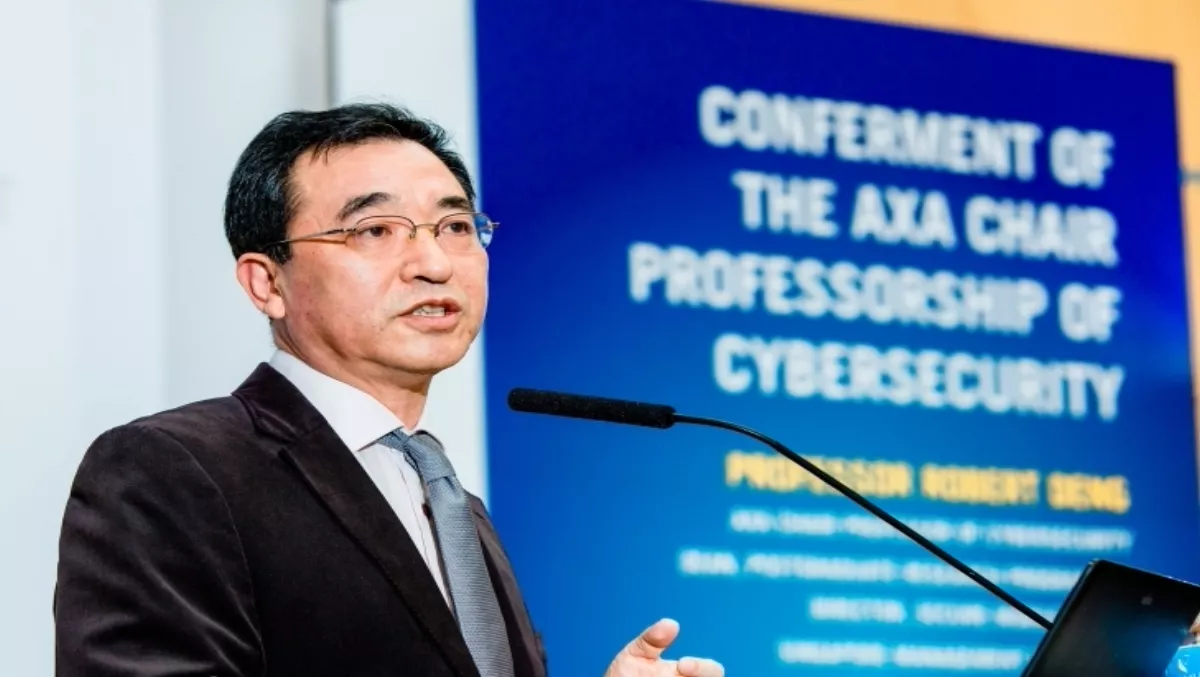 SMU professor receives prestigious AXA Chair Professorship of Cybersecurity
Wed, 19th Apr 2017
FYI, this story is more than a year old
A professor from Singapore Management University (SMU) has been selected to receive the AXA Chair Professorship of Cybersecurity this week.
Professor Robert Deng, cybersecurity researcher at SMU's School of Information Systems, is the only recipient from Singapore to receive the honour.
"It is a tremendous honour to be awarded this chair professorship by AXA and I would like to express my sincere appreciation to the AXA Research Fund," he comments.
He will receive €800,000 worth of funding over eight years to conduct research, and will join five other recipients across the globe who will develop new ways of protecting data security and privacy.
Deng is the only AXA Chair in Asia to conduct research into the data and technology risks cluster, part of the AXA Research fund. The research will deliver new security models, algorithms, protocols and analysis techniques that will improve security.
"With the research funding, I will be able to execute an important step change at SMU by bringing together the university's strengths in cybersecurity and analytics across the technology, management and social science areas. I will also be able to deepen and strengthen my collaborations with scholars from all over the world," Deng continues.
Lily Kong, SMU Provost Processor, says the award serves as recognition and affirmation of SMU's research excellence.
"It strengthens our efforts to attract and retain thought leaders and outstanding professors who deliver exceptional teaching experiences as well as create and share new knowledge through their cutting-edge research. These scholars will provide impetus and strong support for our ambition to become a premier university in Asia," Kong says.
Deng will also work with a team to integrate his cybersecurity research into SMU's larger scale projects. The aim is to test and demonstrate the new cybersecurity methods they develop across various sectors of the university, including SMU's Living Analytics Research Centre, LiveLabs Urban Lifestyle Innovation Platform and the Centre for Applied Smart-Nation Analytics.
AXA Insurance Singapore's CEO Doina Palici-Chehab says that Singapore's renowned status as an internet-connected nation — and one that is constantly exposed to cyber threats — will benefit from Deng's research.
"Professor Deng's research will prove invaluable in developing new ways to defend against cyber threats and we are proud that the globally coveted AXA Chair was awarded to a project from Singapore. AXA looks forward to playing a role in helping strengthen Singapore's cybersecurity capabilities, giving Singaporeans a peace of mind as they conduct their businesses online," Palici-Chehab explains.
Deng works with SMU as a Professor of Information Systems, Director of the Secure Mobile Centre and Dean of Postgraduate Research Programmes.
He has published more than 300 papers on cybersecurity and has obtained 26 patents for his work.