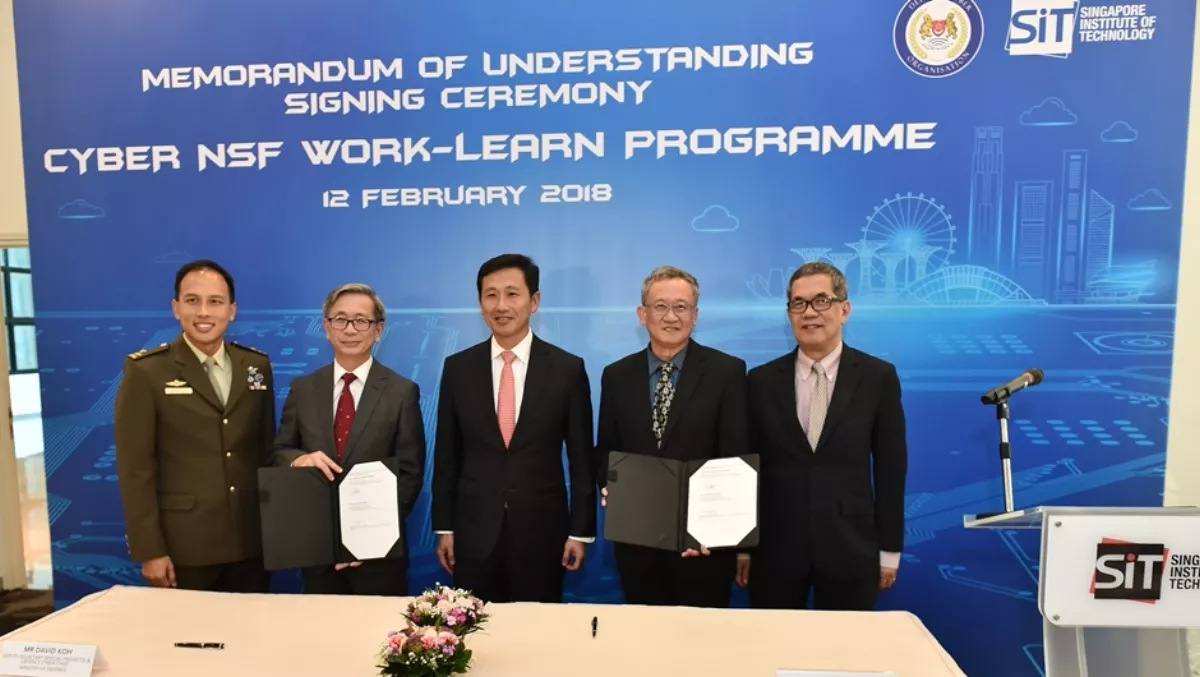 Singapore's MINDEF launches cyber training scheme for national servicemen
FYI, this story is more than a year old
Singapore's Ministry of Defence (MINDEF) is opening its doors to the Singapore Armed Forces as part of a new initiative to help SAF boost its cybersecurity capabilities.
Minister for Education and Second Minister for Defence Ong Ye Kung announced the initiative in partnership with the Singapore Institute of Technology this week.
The Memorandum of Understanding for the Cyber NSF Work-Learn Programme was signed by Defence Cyber Chief David Koh, and Deputy President (Academic) and Provost, SIT Professor Loh Han Tong.
Full-time national servicemen (NSFs) in cyber roles will fall under the Cyber NSF scheme, which allows NSFs with requisite skill and aptitude to be deployed in cyber roles critical to Singapore's defence.
According to MINDEF, NSFs will be trained as basic cyber operators for cybersecurity monitoring; threat assessment and response; vulnerability audits and penetration testing; and malware analysis and cyber forensics.
Those with stronger skill sets and meet selection requirements may be able to take advantage of the Cyber Specialist Award, which is a short term contract on regular service on top of their regular duties.
NSF cyber specialists will receive regular pay under the contract and may be promoted up to First Sergeant as they progress through their training and operational roles.
Those participating in the Cyber Specialist Award will also be able to attend a work-learn programme with Singapore Institute of Technology. Courses will deliver professional certifications that prepare participants for more technically demanding cyber jobs in MINDEF and the Singapore Armed Forces.
Ong says that the Cyber NSF scheme brings together three key trends.
"One, the operational requirements of the Singapore Armed Forces to defend our country better, especially in the area of cyber defence. Two, the rise of a young group that is au fait with cyber defence, and we want to tap and leverage on their expertise. And three, an evolution of teaching methods in all our universities and Institutes of Higher Learning, that it is not just lectures but also hands-on experience," he explains.
A pilot program is expected to launch in the second half of 2018. Interested pre-enlistees can register on the MINDEF website.
Applicants are expected to possess baseline knowledge and skills in cybersecurity. Those with a track record in cybersecurity will be well-suited for the scheme. Applicants will be put through a rigorous selection test designed to test their skills and aptitude in relevant areas such as cryptography, security architecture and application security, as well as psychometric tests and practical problem-solving scenarios.
The Cyber NSF scheme is a collaborative effort between MINDEF, the Cyber Security Agency of Singapore, SkillsFuture Singapore and SIT.