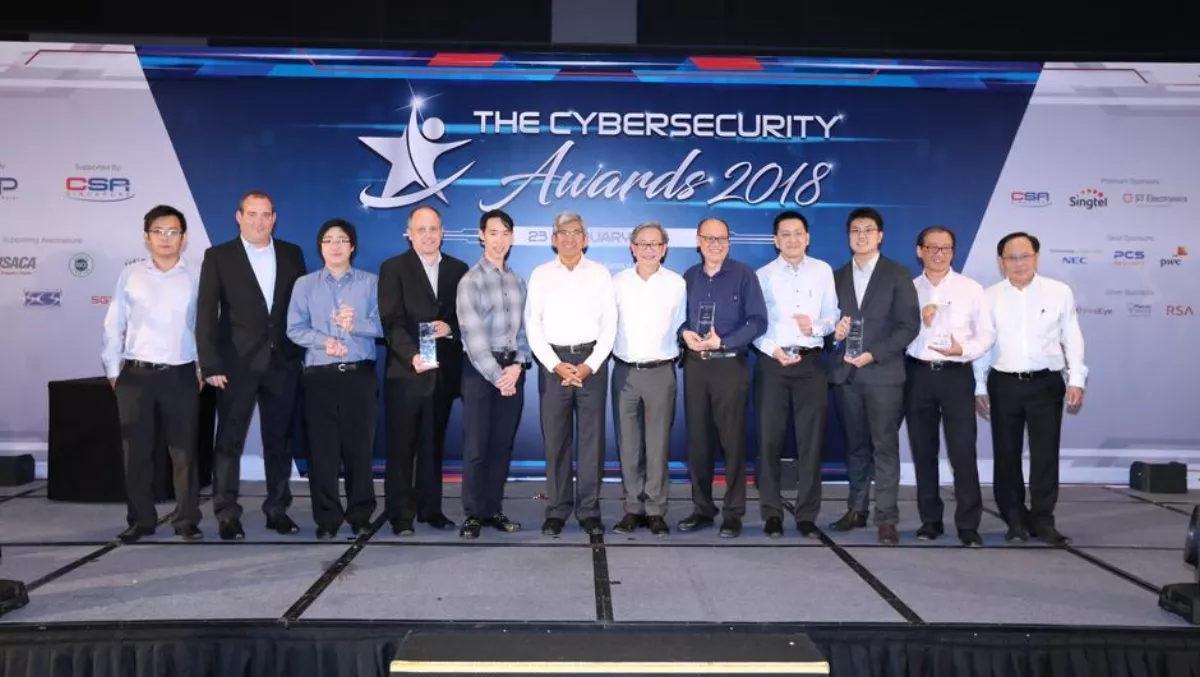 Singapore Cybersecurity Awards celebrate top cyber talent
Singapore's inaugural Cybersecurity Awards recognised some of the country's most inspiring people and organisations last week, as part of an effort to recognise their outstanding achievements and contributions to the cybersecurity ecosystem.
Minister for Communications and Information and Minister-in-charge of Cyber Security, Dr Yaacob Ibrahim, presented the awards at a ceremony held at Suntec Singapore Convention and Exhibition Centre last week.
"I am delighted to say that this Cybersecurity Awards and Gala Dinner is the fruit which could materialise only because of the strong collaborations within a closely-knit cybersecurity community in Singapore," comments the Association of Information Security Professionals (AiSP) president Steven Wong.
"Moving forward, AiSP will continue to encourage, foster and facilitate more of such public-private-academia partnerships, both locally as well as globally, in order for us to work together with everyone to fulfil our mission to Advance, Connect and Excel (or in short, ACE) the cybersecurity profession and professionals in Singapore.
The Awards were separated into three categories: Professionals, Enterprises and Students.
Professionals category:
Professor Yu Chien Siang received the Hall of Fame Award in honour of his exceptional leadership, commitment and contributions that span 27 years in the cybersecurity field.
He developed Singapore's first security email system and PC security system and helped to establish the GovWare conference. He is currently senior vice president and chief innovation officer at Quann Asia Pacific.
Dr Lim Woo Lip received the Leader Award for his strong leadership and distinguished contributions to the ecosystem for the last 30 years.
He has been instrumental in developing an integrated, national-level cyber defence concept. He also developed the StarHub Cyber Security Centre of Excellence.
Emil Tan received the Professional Award for his significant contributions to Singapore's cybersecurity ecosystem, including his roles in bringing the local community together, raising awareness and profiling Singapore in the global cybersecurity field.
Tan leads cybersecurity communities including Edgis and Null (Singapore Chapter). He also contributes to the Cyber Security Awareness Alliance of Singapore.
Enterprises category:
EMC Computer Systems (South Asia) received the MNC Award for its RSA Security Services that deliver business-driven security solutions for enterprises.
EMC conducted multiple Security Operations Centre Simulation Challenges for schools, enterprises and Government agencies. It has contributed significantly to raising cybersecurity awareness as a member of the Cyber Security Awareness Alliance and has participated in cyber wellness programmes.
Custodio Technologies received the SME Award for its work in developing cyber early warning technology, contributions to the cybersecurity ecosystem, R-D, and the local talent pool to create 'innovative home-grown cyber technologies for commercialisation'.
In 2017, Custodio commercialised its first solution ORBWEAVER, a data leak detection and early warning product where the entire end-to-end development was undertaken locally.
Custodio was also one of the early founding industry members of the Singapore Cybersecurity Consortium.
Students category:
Jeremy Heng received the Student Award. He is a third year information security undergraduate at the National University of Singapore. He is also vice president of cybersecurity special interest group NUS Greyhats. He has competed in numerous international and local competitions. He also placed top in the Singapore Cyber Conquest in both 2016 and 2017, and placed second for the ASEAN Cyber SEA Games 2017.