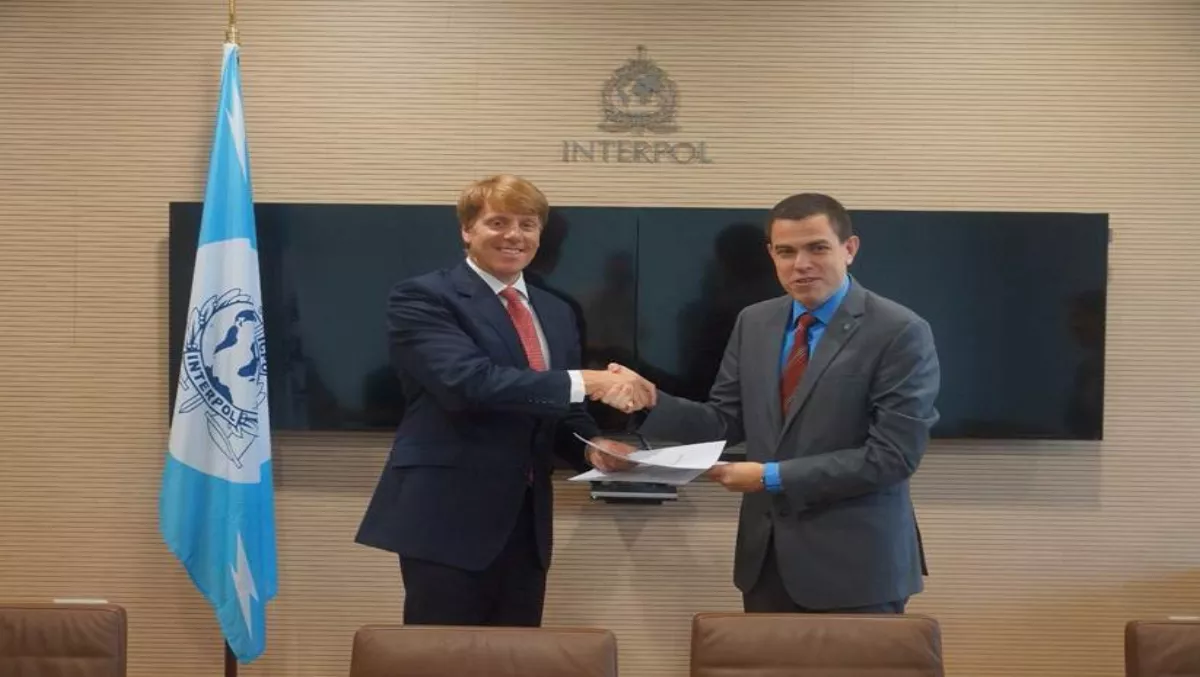 INTERPOL & BT sign landmark data exchange agreement to combat cybercrime
FYI, this story is more than a year old
INTERPOL and British Telecommunications (BT) met at Singapore's INTERPOL Global Complex for Innovation (IGCI) last week in a landmark data exchange agreement to step up efforts to combat cybercrime across the world.
The agreement provides a framework for threat information exchange that focuses on data related to criminal trends in cyberspace, as well as emerging and known cyber attacks.
The mutual data sharing agreement will also allow BT and Interpol to co-operate more closely in order to protect everyone from cyber threats. BT will provide the Interpol Global Complex for Innovation with knowledge and insights into the threat landscape, which will help Interpol take action.
Interpol Global Complex for Innovation executive director Noboru Nakatani says, "The scale and complexity of today's cyber-threat landscape means cooperation across all sectors is essential if we are to effectively combat this global phenomenon.
"Interpol's agreement with BT is an important step in our continued efforts to ensure law enforcement worldwide has access to the information they need to combat these evolving cyber threats.
BT already works with Interpol. Earlier this year it was one of several companies to help Interpol take down 8800 Command and Control servers and hundreds of compromised websites, including Asian government portals.
Companies involved in the investigation also included Trend Micro, Fortinet, Palo Alto Networks, the Cyber Defense Institute, Booz Allen Hamilton and Kaspersky Lab.
"With direct access to the information, expertise and capabilities of the private sector and specialists from the Cyber Fusion Centre, participants were able to fully appreciate the scale and scope of cybercrime actors across the region and in their countries," commented ICGI executive director Noboru Nakatani at the time.
The Command and Control servers are typically used to conduct Distributed Denial of Service (DDoS) attacks, spread malware, ransomware and spam.
"Threat intelligence sharing between law enforcement agencies and the private sector is essential in the fight against cyber-crime, which is increasingly borderless in nature," comments BT Security CEO Mark Hughes.
"Tackling cyber-crime therefore requires a collective, global response where the public and private sectors work hand-in-hand. BT's security expertise will help INTERPOL to identify cyber-criminals and hold them to account, as we jointly develop our understanding of the challenges that we and other organisations face in the battle against cyber-attacks.
Interpol has also signed a similar threat sharing intelligence agreement with Palo Alto Networks.
"This collaboration marks a mutual commitment to information sharing, which is necessary in preventing successful cyberattacks. Together with INTERPOL, we can continue to raise awareness and educate business leaders and reduce the collective cybersecurity risk over time," Palo Alto Networks vice president and regional chief security officer for Asia-Pacific, Sean Duca.