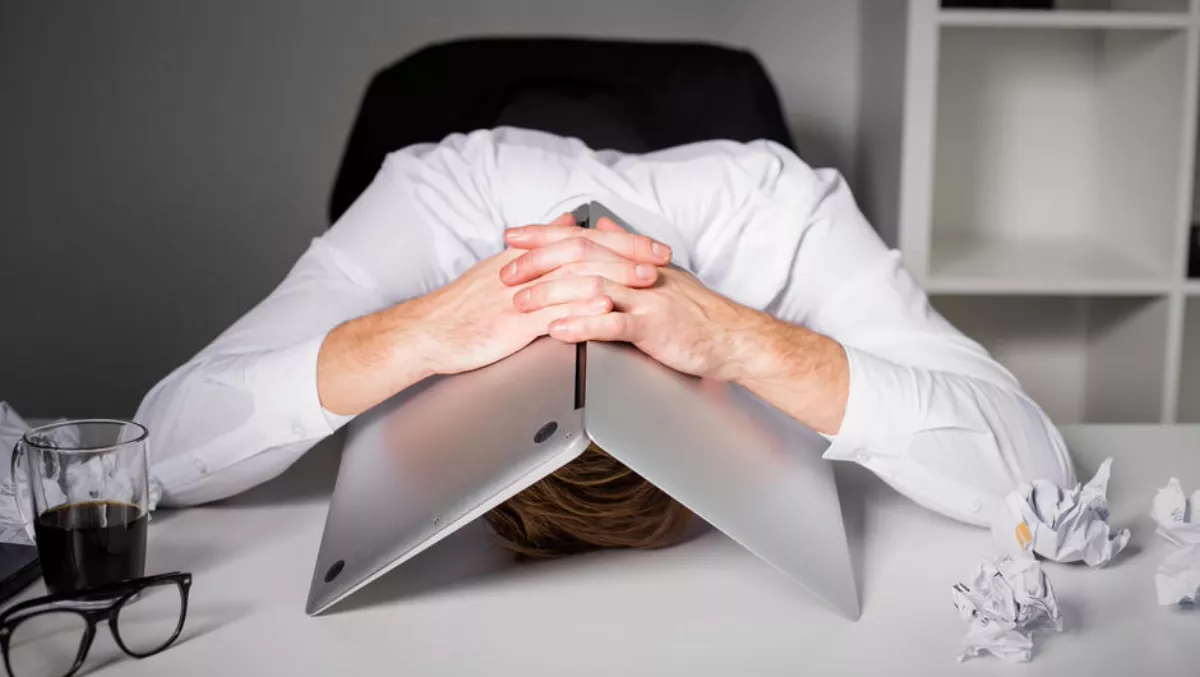 Nearly half of UK IT workforce overworked and underpaid
FYI, this story is more than a year old
The UK's IT workforce is being stretched to breaking point with new research highlighting the strain employers are placing on their IT teams as cybersecurity and tech innovation remain top priorities.
Chess Cybersecurity has released the findings from its report that revealed 45 percent of IT workers in the UK are feeling the sustained pressure of strained technology operations and suffer regular stress in their jobs.
The company's study consists of a UK-wide survey to assess the wellbeing of the national IT workforce, with 1,025 IT workers revealing information about working practices, their perceived value, and provision of resources.
Findings in the report focus on the 45 percent that indicated they're stressed a lot of the time to highlight the key differences between their views and those that aren't stressed.
IT staff who said they were stressed out indicated the following:
59 percent work more than 45 hours a week, 20 percent more than the ONS's stated national average of 37.1 hours

Six out of 10 lack the resources to do their jobs well
Almost half say they do not have a good work/life balance
53 percent feel underpaid for the contribution they make
Only four out of 10 think IT is a respected department in the organisation
Chess Cybersecurity culture director Kate Wood says they weren't surprised o hear that working in the IT industry can at times be increasingly stressful.
"Of those employees who took the survey citing regular stress at work, almost half claim they don't feel supported in the role by senior managers, and two thirds don't have adequate resources to do their jobs well," says Wood.
"At Chess, this is something we work hard on with our leaders and through a consistent cultural methodology and regular communication we believe we have a strategy to support all our IT teams so that they can support our customers."
According to Chess, this problem can't be solved by simply reducing working hours. Further steps need to be taken like improving internal awareness of stress and its impact on the employee's mental health, behavior and performance.
UK employee assistance programme provider Health Assured has joined Chess's call for change.
Health Assured CEO David Price says IT workers too need to proactively take steps to manage stress in the workplace, and that means first understanding its causes and effects.
"We should provide employees and managers with training to identify and manage stress, and by actively supporting employees in the workplace, we can not only reduce workplace stress but also prevent consequential health issues," says Price.
"Stress alone isn't a mental condition that is classed as a disability under the Equality Act 2010, but it can lead to further medical conditions that can fall within the definition of disability, such as depression, anxiety or heart disease. Proactively talking to employees with stress, and providing workplace support, will help ensure stress is managed before it progresses."
The links between stress and health have been underlined in a number of academic findings published in the last year, including:
Australian National University found that working over 39 hours a week is a risk to wellbeing

Columbia University Medical Center linked office workers' sedentary lifestyle to premature death

University College London linked overworking with cardiovascular problems
"It is clearly detrimental to every employee's wellbeing, not to mention the company's own operations if key IT members are suffering from stress," said Chess director of cybersecurity Gavin Wood.
"These employees are dealing with crucial aspects of the company's IT systems, such as their security defences, every single day. Allowing these health issues to go unheeded could, therefore, come at a significant cost to the business, in addition to letting down the employees themselves."