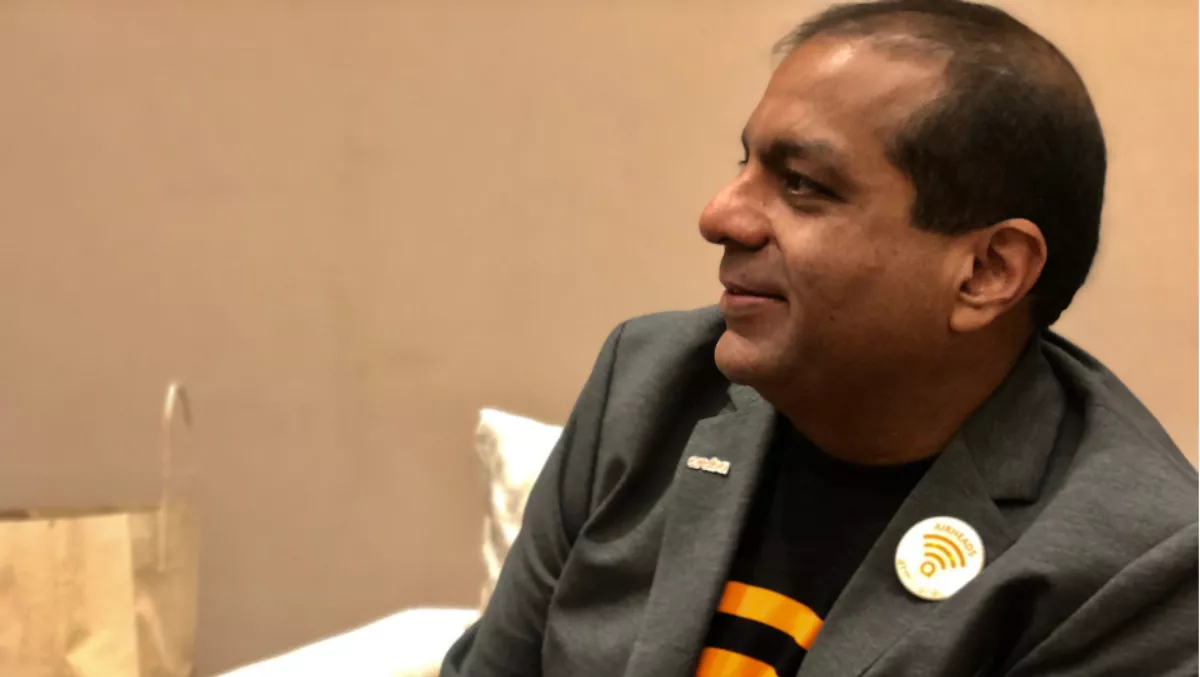 Exclusive: Aruba APAC CTO talks next steps for the region
Connectivity, Internet of Things (IoT), user experience (UX), and tying them together were front and centre of Aruba's strategy at its recent partner and user conference.
The SD-WAN and connectivity company is driving a stronger focus on the cloud, security, and UX to capitalise on opportunities it's seeing in the region.
TechDay spoke to Aruba Asia-Pacific chief technology officer Amol Mitra about the changing network infrastructure trends in Asia-Pacific, new possibilities, and Aruba's next steps going forward.
How have you seen networking technology trends evolve in APAC?
I've seen four major shifts happening.
A couple of decades ago, it was all about hardware.
The bigger, mightier, or better-performing hardware products were the major players, but now, hardware will continue to grow and perform faster, but software is where the secret sauce is.
So the evolution to automation, programmability, dynamic policy management, and really having the networks follow you as people move versus before when people had to adjust to the network requirements.
The second is the shift from on-prem to cloud because manageability becomes easier, small things like upgrades become easier, and you can now personalise your experience, because everything is in the cloud and your preferences can be managed anytime, anyplace anywhere.
The third one is around moving from what is called static environments, to more personalised, user-friendly experiences.
Whether you go into a hotel, grocery store, retail shop - everything is getting more personalised to your preferences.
So moving from what used to be the era of LAN (local area networks) to now, where it's all about personalised networks (PANs).
The final one is around analytics, and the availability of all this information making things smarter, more intelligent, based on data and analysis to deliver the preferences people have.
What are you seeing in terms of technology and infrastructure maturity in Asia?
In the West, technology has gone through upgrade cycles year on year.
In Asia, and some emerging countries like Vietnam, Phillipines, Indonesia, the infrastructure in the past had not been upgraded in baby steps.
So they have very traditional, and probably older equipment.
So instead of doing these baby step upgrades, they're saying, "Let's just leapfrog technology and move to a completely dynamic, automated environment, which can be upgraded regularly through software.
The benefit in our region now, especially in these emerging economies and some mature economies like Australia and India, is they're just looking at complete digital revolution and digital disruption of their existing legacy environment to a completely new environment.
So suddenly, in our region, we have become almost early adopters of these new shifts in technological revolutions.
The second thing which is interesting in our region is a lot of buildings and houses have been built on bricks and stones as opposed to wood.
So running a cable through a wall in the West is quite easy, because you just had to open up the wooden wall and you can repaste it back.
In our region, like in India or in emerging countries, a lot of it is brick-based construction.
Running a cable through that is very tedious, labour-intensive, and not cost effective.
What people are doing now is that instead of getting wires connected, they're just moving to wireless, because they don't want to go through the pain of redoing a brick wall.
That's one small example of how we are now becoming early adopters because we have infrastructure which has been legacy which we cannot upgrade quite easily - but we can now take the next step of really taking it to the next frontier.
What is Aruba doing to take advantage of opportunities in this area?
The Asia-Pacific is one of the fastest growing regions for us.
So we're making three pivot shifts - one around cloud, the second one around user experience, and third is building out our channel partner ecosystem.
With the first one, our vision is to move to a cloud-first environment by delivering capabilities to the cloud.
So everything from our security capability, our network management capability, our switching programmability, our Wi-Fi capability - we are moving all of that policy and network management into the cloud.
That doesn't mean that we're going to give up on on-prem, but we are moving to the cloud environment as a business to make sure that everything can be delivered in an as-a-service model so that people can use our infrastructure on a pay-as-you-grow or pay-per-use model.
Today, a lot of people in the region are quite price-sensitive, and they don't want to pay more if they're not using certain services like bandwidth.
That's why when we build hardware platforms, everything has an API - our switches, Wi-Fi products, beacons, our new NetInsight capability, security, everything has an API and all of our products can be programmed seamlessly.
So the second shift we're doing is around making sure that all of our platforms are programmable through an SDK (Software Defined Kit).
And the main reason we want to do that is at the end, what matters is the user experience and the user experiences defined by the applications.
If we're able to optimise those applications, then the user experience will always be better.
This shift is focusing more on experiences, and we're building an experience-first platform, which really is this programmable dynamic platform which enables apps to be written and to be optimised in our environment, running an Aruba infrastructure.
That's a cloud user experience, so we architected our entire portfolio to deliver on that user experience expectation.
And then finally, we work with our channel partners.
We're growing our channel partner ecosystem to for them to deliver services - whether it's professional services, post-sales services, installation services, deployment services - working with our partners to really take these products and solutions and deliver services on top of that dynamic environment so they can gain customer loyalty by delivering their own services, and they can be profitable as well in that space.
What are some projects in the region that Aruba is working on with the implementation of infrastructure?
We're working with the Australian company called Skyfii on heat mapping foot traffic in one of the Westfield malls in Sydney to help it understand when peak times for the mall are, which allows them to really optimise and design the facilities and the space around how it's currently being used.
We're also using them to deliver wayfinding services within the mall, while at the same time working with app developers to do custom push notifications delivered by stores in real-time as shoppers walk past.