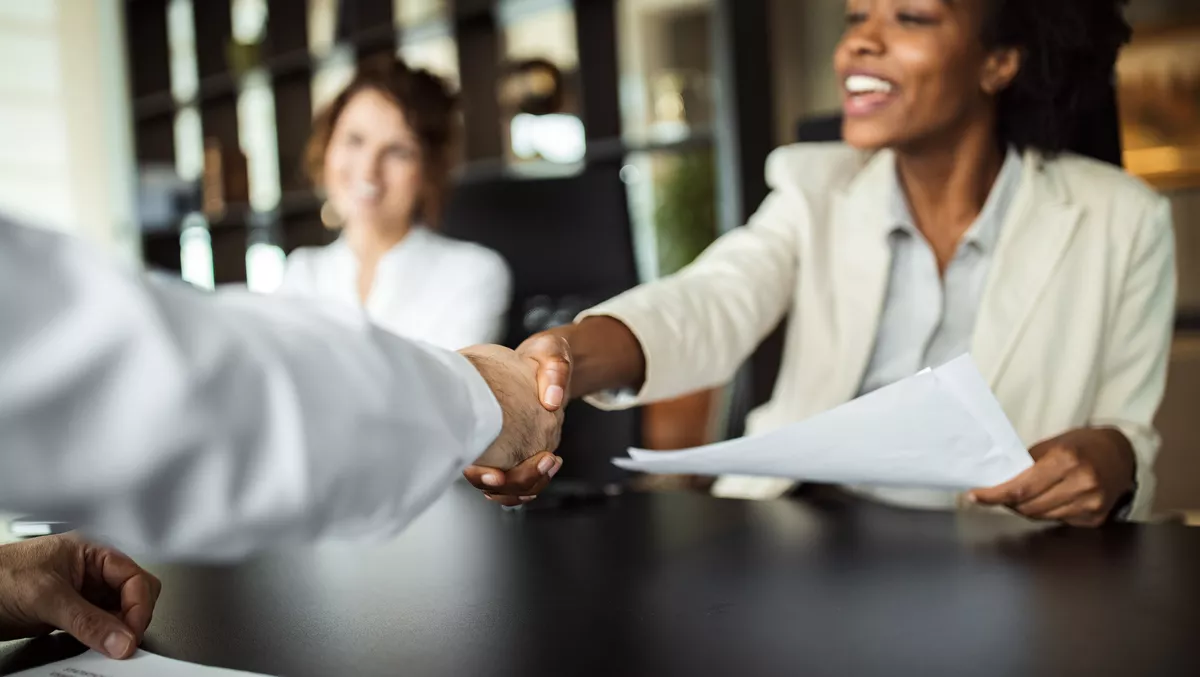 Tech job moves - Cisco, Hitachi Vantara, Tricentis & Zscaler
We round up all job appointments from April 28 - May 5, 2022, in one place to keep you updated with the latest from across the tech industries.

Cartelux
The company has appointed former Audi global head of media manager Kristin Harder as global head of strategy and partnerships.
The new role will see Harder steer the strategic direction of the company, launch marketing initiatives and grow the business's global partnership networks.
Harder joins from Audi, where during her nine-year tenure, she managed Marketing Communication, Events - Sponsorship for China, Audi's single most important market. Her career grew to incorporate global marketing responsibilities when she became global head of sales media before taking on global media responsibilities.
Harder welcomed the opportunity to apply her international experience to the fast-paced startup world as Cartelux shapes the future of retail marketing.
"Cartelux is targeting a long-standing pain point within global campaign management by integrating retail networks seamlessly into the campaign and media buying process," Harder says.
"I have seen first-hand the critical divide that often lies between OEM and retail networks, in particular in digital advertising. Maximising synergies is critical for reaching in-market audiences at the right time and place. Cartelux has truly innovated this space by offering a simple, time and cost efficient platform solution."
"Kristin's global experience, understanding of the most complex automotive retail environment, combined with her global marketing and media background is a perfect fit for the company. I am delighted to have her on board to grow the business together," Cartelux founder and CEO Josh Williams says.
Harder joins an esteemed senior management team of automotive veterans at Cartelux, including global industry lead automotive, Raoul Picello, general manager EMEA, Herve Genin, global general manager, Patrick Doble, and chief financial officer, Stephen Burns.
The appointment comes at a time of rapid global growth for the business following client activations in Thailand, India, Australia, Switzerland, Spain, and Germany.

Cevo
The technology consultancy has appointed Garry Asprey-Sharman as its new dedicated partnerships manager.
This newly created role will see Asprey-Sharman drive Cevo's relationship with Amazon Web Services (AWS). As an AWS Advanced Consulting Partner, he will be responsible for helping Cevo to leverage the programs, expertise and resources to continue to drive value for customers and accelerate their journeys to the cloud.
Prior to joining Cevo, Asprey-Sharman was most recently the partner development manager for VMware Cloud on AWS, responsible for developing the partner ecosystem in Australia - New Zealand.
"I'm excited to join Cevo during this period of rapid growth", Asprey-Sharman says.
"The combination of Cevo's excellent technical and engineering talent, and a customer-focused culture, has created a significant opportunity for us to work closely with AWS to help support, transform and propel Australia's most innovative companies on their cloud journeys. I look forward to working closely with AWS to deliver continuous innovation to our customers."
The appointment comes as Cevo continues to invest in its relationship with AWS, including the recently attained AWS DevOps Competency status while strengthening the foundations for ongoing growth. With a focus on hiring top talent in all capability areas, Cevo continues to invest in the growth of its Sydney, Melbourne and Canberra operations, including the hiring of more than 30 staff since the beginning of 2022.
"Garry will be an excellent asset to the Cevo team and we're thrilled to have him on board," Cevo CEO James Lewis says.
"With more than 30 years of industry, technical and sales experience, we will all benefit from Garry's extensive knowledge. Together with Garry, the broader leadership team and the wider Cevo staff, we look forward to investing in our partner relationships to meet the needs of Australia's most innovative companies, and ultimately support our customers to accelerate their cloud journey."

CIMET group
The company announced the appointment of Kunwar Aditya (Addie) Saxena as its chief financial officer.
Saxena joined CIMET in September 2020 as the strategy adviser, where he led the capital raise process and executed the iSelect transaction for CIMET.
After successful completion of the iSelect transaction, Saxena has now assumed his new role effective immediately.
Reporting directly to the CEO of CIMET, Saxena is responsible for overall finance and strategy requirements at CIMET, including building a strong finance team, delivering corporate finance, accounts and taxation duties, and leading the finance and strategy teams to deliver a long term shareholder return.
He will further actively play a role in CIMET's ambitious growth strategy, expanding its product and technology offerings beyond just energy and broadband and into new sectors such as banking and finance, as well as expansion into international markets.
"We are thrilled to onboard Addie as the company's CFO. Addie has significantly contributed to the business since he joined as the strategy adviser last year and he is the perfect candidate to take on the role of CFO at CIMET," CIMET founder and CEO Ankit Jain says.
"[Saxena's] deep finance and strategy experience combined with his thorough understanding of the CIMET's business will be a valuable asset as we enter the next stage of growth.
"Addie's appointment will further enable CIMET to optimise and drive financial performance and ensure a focus on long term shareholder value."
"I am very excited to be joining CIMET's executive team and to be witnessing the massive growth that it offers," Saxena says.
"This role will be challenging and requires strong alignment through the organisation's growth trajectory in line with expectations from the strategic partner.
"I look forward to achieving the targets set by the company, and delivering long term ROI to its shareholders."

Cisco
The company has appointed a new country manager for New Zealand, with Garrett Heraty taking up the position, joining the senior leadership team from May 9 2022.
Heraty brings experience from the US, where he was most recently the client executive for Amazon. A global Cisco veteran, Heraty has worked with Cisco for over 15 years, spearheading roles in the USA, Europe and the Middle East.
Heraty has been at the forefront of Cisco's transformation and the shift to software and recurring business models. He has led the transition to new technologies and solutions for some of Cisco's largest customers globally. His unique experience will help position and bring the future of Cisco to New Zealand.
"Through the variety of roles I have held in my career in Cisco, I have consistently built successful teams and businesses by passionately focusing on our customer's and the outcomes they are building to," Heraty says.
"Building on my global experience, I'm honoured to lead the phenomenal Cisco team locally to support our customers and partners to accelerate their recovery from the pandemic, as well as support their long-term success.
"On a personal level, my family and I are thrilled to move to New Zealand and immerse ourselves in the local culture, it's always been a country that has fascinated me."
As country manager for New Zealand, Heraty will elevate the relevance of Cisco in the local market, support technology transformation and software transition with customers and partners, continue to develop the talented team, and bring about meaningful, inclusive impact to the New Zealand community.

Criteo
New hire Manuela Cadd takes the lead as regional go-to-market director in Australia and New Zealand.
Cadd joins Criteo from Verve Group, where she served as the Australian country manager and brings over 20 years' experience in business development and account management to the company.
After beginning her career in Germany, Cadd has held a range of roles in advertising across Europe and Australia, experience that will prove invaluable in the growth of Criteo's presence in Australia and New Zealand.
This recent hire adds to Criteo's growing team, which has expanded from twelve local employees to twenty since the start of 2021, and there are a number of positions currently open. Australia has been identified as a key market for Criteo to test and innovate products, with several Beta tests taking place in the country with leading local brands.
"The digital advertising industry is in demand as we move towards a future of addressability. Marketers and brands are looking for new ways to reach relevant consumers and we are proud to be at the forefront of that shift. We are excited to have Manuela on board to assist Criteo in providing the high-level services our clients have come to expect from us," Australia and New Zealand managing director Colin Barnard says.
"As working environments continue to evolve, we are offering our employees a choice of working from home with the office space used for collaboration, ideation and the opportunity for teams to come together as and when needed. This allows Criteo to invest in talent across Australia, creating a team with a range of expertise ready to shape the future of advertising."

FM Global
Jessica Waters has been appointed vice president, manager of climate and structural resilience at FM Global, one of the world's largest commercial property insurers.
Waters joined FM Global more than two decades ago and has served as engineering specialist, account engineer, and operations chief engineer in the company's Boston operations. Most recently, she was senior engineering technical specialist, natural hazards and structures.
In her new role, Waters will lead a team of engineering experts focused on fortifying industrial and commercial properties against climate and structural risks and will be based at the company's corporate offices in Johnston, Rhode Island, USA.
Waters also is chair of the Massachusetts Maritime Academy (MMA) board of trustees, which is responsible for Academy operations, reviewing and approving academic and business matters, including the annual budget, student fees and operational performance. Waters graduated from the Academy in 2001 with a Bachelor of Science in marine engineering and a U.S.Coast Guard 3rd Assistant Engineer's License. She earned a Master of Science in emergency management from the Academy in 2009.
Waters succeeds Katherine Klosowski, who retired after 34 years with FM Global.

Global Processing Services (GPS)
Simon Stanford has been appointed as chief revenue officer.
Based in London, Stanford sits on GPS' global executive committee and leads the company's global commercial, partnerships and customer relationship management and marketing teams with a focus on developing GPS' global partnerships ecosystem, marketing and brand strategy, and driving revenue growth worldwide.
Simon joins GPS from global online payments platform Worldpay where he was senior vice president group executive for the EMEA region and led a commercial team of over 450 people. He has more than 20 years of commercial experience, predominantly gained at global technology and telecommunications businesses, including Samsung Electronics and O2 (Telefónica UK).
"We are delighted to welcome him to our senior leadership team. Simon joins GPS at the most exciting chapter in our history to date as we prepare to embark on a rapid global expansion," GPS CEO Joanne Dewar says.
"Simon brings to GPS a stellar track record of success in building and leading high-performing global commercial teams and will be a pivotal player in our accelerated growth strategy for 2022 and beyond," Dewar adds.
"In meeting Joanne and GPS' new board I was impressed by the scale of their global ambition to transform the payments industry and their drive to help fintechs and entrepreneurs all over the world accelerate the digital revolution," Stanford says.
"GPS has built an impressive and diverse customer base, providing the issuer processing firepower for some of the most disruptive and fast-growing fintechs in the world. I am delighted to join the team and look forward to being part of GPS' international growth journey."

Hitachi Vantara
After a decade at Hitachi Vantara, primarily focused on the Channel, Jonathan Fester has been promoted to ANZ channel manager.
Fester is a familiar face amongst Hitachi Vantara's partner ecosystem as he has played a key role in supporting Hitachi Vantara's partners in Queensland, Northern Territory, and Western Australia for the past seven years in the senior role of strategic partner manager.
Whilst taking on the leadership role in Hitachi Vantara's local channel-facing team, Fester will continue to work with existing and new partners in those states.
The wholly-owned subsidiary of Hitachi also announced the appointment of Nathan Knight as vice president and managing director for Australia and New Zealand.
Knight will manage Hitachi Vantara's business and operations in ANZ with a focus on nurturing the partner ecosystem, charting business strategy and sustaining ANZ's business growth.
Knight replaces Adrian Johnson, who was recently promoted to the role of Asia Pacific vice president of Hitachi Vantara's Digital Infrastructure Business Unit. In his new role, Knight reports directly to Johnson.
"Leveraging data to create value in business and society requires deep industry experience," Johnson says.
"Bringing the best leadership talents to our business ensures that Hitachi Vantara can continue to expand and win in the competitive ANZ market. I believe that Nathan's enthusiasm, international work experience and successful track record will elevate our ANZ business to the next level."
Originally from Auckland, New Zealand, Knight has two decades of experience in international information and communications technology (ICT) and SaaS executive leadership and management for IT manufacturers, distributors, and telecommunications companies spanning New Zealand, the UK, EMEA and most recently, Australia.
Knight spent two years as GM UK, Europe and Africa for Talkingtech and was Acer UK's head of commercial business. He subsequently relocated to Sydney to spend the past eight years at Lenovo ANZ as SMB and channel sales manager and then Infrastructure Solutions Group managing director.
"My 20 plus years' career in technology underpins my understanding of the transformation that technology can deliver to organisations in the public and private sectors, from enterprise through to SMB," Knight says.
"I know businesses are on a constant transformational journey to enhance relevance, competitiveness and deliver new services to their customers. I am proud to be joining a company with an exceptional legacy and pedigree in delivering the changes for their customers through continual technology innovation."

Kyndryl
The company has made a key leadership hire for its Australian and New Zealand business, welcoming Yolanda Stead as head of alliances for Australia and New Zealand, who joined the team this week and will be based in Sydney.
Stead will be responsible for accelerating growth and fostering innovation through strategic alliances. She will work closely with existing partners as well as identify new alliance opportunities to create solutions that benefit local customers and the wider channel ecosystem.
Stead brings a wealth of experience to the role and joins Kyndryl from KPMG Australia, where she served as national alliances director.
Prior to that, she worked in strategic accounts at Oracle and as a technical account manager at Aconex. She began her career in South Africa working with LexisNexis, Aconex and Arup before moving to Australia in 2017.
"Yolanda brings vast partnership experience to Kyndryl and our continually-growing ecosystem," Kyndryl Australia and New Zealand president Kerry Purcell says.
"Our alliances team led by Yolanda will play a critical role as we work with both global and local partners to develop, implement, and manage innovative offerings for our customers."

Loyalty Now
The company has named Anurag Vasisth as group CEO of its parent company, Loyalty and Rewards International (LRI).
In this role, Vasisth will lead LRI group companies responsible for CLO SaaS and merchant services.
Additionally, Vasisth will steer the company through to the next phase of evolution.
This includes expanding the company's national footprint with marquee brands, international expansion, and leading future capital raises.
"I'm thrilled to be joining the LRI leadership team and stepping into the role of Group CEO," Vasisth says.
"It's an exciting time in the loyalty and rewards landscape, and this is a great opportunity to take an innovative company to the next level in its journey to being the loyalty and rewards platform provider of choice.
"Loyalty Now is a leading name in card-linking technologies. The strength of Loyalty Now comes from its commitment to deliver streamlined, frictionless experiences for all players in the loyalty and rewards ecosystem, including program operators, merchants, and end customers.
"I've always looked for opportunities to grow with teams, and companies that are driven by innovation and Loyalty Now seemed like the perfect fit.
"Loyalty Now has incredible ambition and potential for sustained growth. I'm excited to help achieve this vision by working with the team and continuing to engage with partners to drive the company forward," Vasisth adds.
"Loyalty Now is pleased to have Anurag cascading from his role on the board and taking the reins as the Group Chief Executive Officer of the company," Loyalty Now executive chairman Christopher Carroll says.
"Anurag has a great deal of experience both with the company itself as an advisory board member, and first-hand in the broader payments industry. As the Group chief executive officer, Anurag will be instrumental in leading LRI group companies through our next phase of growth and commercialisation."

Marketplacer
The company has continued its investment in new executive talent by appointing Tal Rotbart as chief technology officer.
He will be responsible for forging the ongoing technology direction and development of the Marketplacer platform, including reinforcing its engineering, infrastructure and cybersecurity.
In addition, he will be responsible for further product localisation and working with an international partner network to support platform growth.
"Marketplacer's technology needs have grown exponentially along with our customer base," Marketplacer founder Jason Wyatt says.
"Tal Rotbart has that rare mix of exceptional interpersonal and management skills, as well as the technical knowledge and expertise to run a leading-edge technology organisation.
"He has terrific skills from his experience at high growth Internet companies where he was instrumental in providing the technology vision, strategy and leadership to help the organisations scale from concept through fundraising, acquisitions and beyond.
"We're thrilled to have him join the team at Marketplacer and look forward to the positive impact he will have on our global growth."
Rotbart joins Marketplacer with more than 25 years' experience in the IT industry and was previously Chief Technology Officer at PageUp. During his eight years with the organisation, he managed the organisation's product team, which focused on enhancing its best-in-class SaaS-based talent management solutions. In his latest role, he also owned all aspects of product strategy and management, development, usability, quality, security and operations.
"Marketplacer has a really exciting vision, a people and customer-obsessed focused culture and an inspiring leadership team aiming to bring growth to every ecommerce business on the planet," Rotbart says.
"I'm looking forward to working with the team, our customers and industry partners to further accelerate our product development and to ensure we have a north star focused on our customers' needs and that together we can seamlessly innovate to deliver and make the most of every opportunity."

MEF
The company announced the launch of a Technology Advisory Board (TAB) comprised of senior executives from leading global technology companies.
The TAB augments the leadership and expertise of MEF's board of directors and brings important technology provider perspectives to the strategic work of MEF.
MEF established the TAB to incorporate input from all key stakeholder communities, cloud, network and technology providers, with a goal of helping the ecosystem more quickly develop and bring to market leading-edge services and solutions. TAB members will serve a one-year term and were selected for their extensive industry leadership in MEF's strategic areas—cybersecurity, business automation, SD-WAN, underlay connectivity, and edge computing. The TAB initially will focus on increasing efficiencies and opportunities within the member ecosystem and supply chain to more quickly generate revenue.
The Technology Advisory Board consists of ten industry luminaries:
- Versa Networks CEO Kelly Ahuja
- Blue Planet portfolio and engineering vice president Kailem Anderson
- Netcracker Technology strategy senior vice president Ari Banerjee
- ServiceNow media - technology telecommunications head of product vice president Rohit Batra
- VMware SASE business vice president and general manager Craig Connors
- Salesforce communications industry vice president and general manager David Fan
- Nuage Networks, Independent founder and former CEO Sunil Khandekar
- Spirent Communications Cloud - IP chief technology officer and general manager Dave Larson
- Fortinet product executive vice president and chief marketing officer John Maddison
- Cisco enterprise routing and SD-WAN product management vice president JL Valente
"We are thrilled to welcome this inspiring group of executives with invaluable leadership and knowledge to MEF's new Technology Advisory Board," MEF president Nan Chen says.
"For more than 20 years, MEF has been successful because of the extensive collaboration by its members and board leadership to help solve shared business challenges.
"Bringing in the technology perspective of the TAB further strengthens the industry collaboration that drives enterprise digital transformation through a better-together ecosystem of service, cloud, and technology providers."

MODIFI
Matthias Hendrichs joined its executive team as chief commercial officer as of May 2 2022.
Hendrichs joins MODIFI from Apple, where he served as head of Asia Pacific for Apple's multi-billion dollar App Store - iTunes retail payments and commerce business across 20 markets in Asia Pacific based out of Hong Kong.
Hendrichs completes the current executive team consisting of Nelson Holzner (CEO - co-founder), Sven Brauer (COO - co-founder) and Jan Wehrs (CTO - co-founder).
As MODIFI's first non-founder C-Level appointment, Hendrichs will lead the market side of the business consisting of the global sales and marketing teams spanning China, Hong Kong, India, Bangladesh, Pakistan, the UAE, Germany, the Netherlands, the UK and the US.
"I am thrilled to join MODIFI at this exciting stage: MODIFI is growing 4x year on year across all major commercial regions. I am looking forward to driving this growth even further and to delivering more value for customers and partners around the world," Hendrichs says.
"We are delighted to welcome such an exceptional global leader to MODIFI. For 26 years Matthias has successfully developed strategies to scale, run and optimise complex businesses of all sizes," MODIFI co-founder - CEO Nelson Holzner says.
"He has an exceptional track record of driving innovative and disruptive go-to-market strategies around the globe."
"Together we will build the leading global commerce platform for business payments and trade management."

Openpay
The company has appointed Kathryn Grant as ANZ head of marketing, who joins the business from international payment solutions provider WEX.

Optic Security
Optic Security ANZ managing director Mark Lloyd has announced the promotion of Auckland-based national sales manager Mike Nugent to the newly created position of New Zealand general manager.
Nugent joined Optic in 2019, having spent twenty years in several senior corporate leadership positions, initially in Europe, where he was European area product manager for Ricoh, and then in New Zealand. Prior to that, he served several years in the Royal Navy (United Kingdom), where he specialised in secure and tactical communications.
"Mike has had a wonderful impact on our business since joining us, both in terms of being an enthusiastic and magnetic member of the team and his results for our customers new and existing," Lloyd says.
"Mike thinks big, and he understands what keeps CEOs awake at night. He speaks the language of risk, and he is able to do so in both the physical and cyber security space, and this is a fantastic and difficult to come by asset."
"I'm excited by the energy Mike brings to this new and strategically important role. His experience in leading high-performance teams to deliver large enterprise grade tech solutions in combination with his vision around security convergence and the role of security solutions as a business enabler position us well for success in the Land of the Long White Cloud," Lloyd adds.
"We have a fantastic team here in New Zealand, and I look forward to what we will be achieving together," Nugent says.
"Optic is unique in the sector as a provider of converged security solutions that address risks across the physical-cyber spectrum and that also act as data-driven business enablers for our clients."
"We live in uncertain times, and I'm energised by the prospect of partnering with more organisations across the country to manage their security risks and enhance their organisational resilience so that they can get on doing what they do best."

PagerDuty
The company has announced that Katherine Post Calvert will join the company as chief marketing officer on May 9, 2022.
With extensive leadership experience spanning global marketing strategy, branding, product marketing, marketing communications, demand generation, and marketing operations, Calvert is an experienced tech CMO with proven success driving go-to-market demand, growth, and shareholder value.
She joins PagerDuty's leadership team and will report to chairperson and CEO Jennifer Tejada.
"The modern enterprise is in the midst of unprecedented change – reliability and innovation are business imperatives, and the pressure to deliver flawless customer experiences has never been greater," PagerDuty chair and CEO Jennifer Tejada says.
"As the only digital operations platform purpose-built to facilitate modern work, PagerDuty is perfectly positioned to lead the industry through this digital transformation.
"We are thrilled to add Katherine's experience in brand evolution, demand generation and marketing leadership to the PagerDuty team as we expand into new markets and execute on our vision of an equitable world where we transform the nature of critical work."
Calvert joins PagerDuty from Khoros, where she served as CMO for the past four years. At Khoros, Calvert was responsible for designing and delivering the company's global marketing strategy, including brand awareness, demand generation, and expanding customer relationships with thousands of global brands.
As CMO, she was the chief architect of the Khoros' identity when the company was created following the merger of Lithium and Spredfast.
Calvert previously served as the CMO of Advent Software, where she served on the executive team that drove the company to a record-setting valuation. In addition to leadership roles at several other technology companies, Calvert's past experience includes serving as a Director of Marstone Inc, a privately-held digital wealth management platform.

Quantifi Photonics
Brent Robinson has been appointed to the company's board as an independent director.
Robinson is a well-known New Zealand technology leader and innovator. As managing director and chief executive officer of Rakon for over 35 years, he grew Rakon into a multinational technology company, overseeing its IPO on the NZX in 2006 and establishing the company as a global leader in the frequency control product industry with annual sales of over NZ$128 million in 2021.
Robinson brings considerable experience in validating and growing export markets, product development, and market leadership across highly-technical market segments. He also understands the challenges and unique advantages of building a technology export business and global organisation headquartered in New Zealand.
Quantifi Photonics CEO Dr Andy Stevens says Robinson's appointment comes at an important time for the company, following the recent acquisition of a research and development facility in Thailand and an upcoming Series C capital raise.
"We're thrilled with Brent's decision to join Quantifi Photonics' board of directors. His deep experience in hardware design and manufacturing, and scaling production and customer service will be incredibly valuable as we execute on our growth strategy," Stevens says.
"I'm excited to join the Quantifi Photonics board and contribute to a very compelling New Zealand technology success story," Robinson says.
"The company has assembled a world-class team and is currently working with global technology companies at the forefront of photonics development. There's a clear path ahead to drive significant revenue growth which I look forward to being a part of."
Robinson joins fellow directors Lance Wiggs, Heather Grace and Roy Moody on the Quantifi Photonics board. He is currently serving as the chief technology officer at Rakon and executive director for the Rakon group of companies across New Zealand, United Kingdom, France, India and China.

RealVantage
Former Keppel Land CEO Ang Wee Gee has joined RealVantage as an advisor and investment committee member with immediate effect.
"It is, indeed, such a privilege to welcome Wee Gee onboard RealVantage. As a stalwart in the real estate industry in Singapore, Wee Gee joins the ranks, alongside Anthony Ang and Richard Tan Liat Chew, as part of RealVantage's investment committee panel," RealVantage co-founder and CEO Keith Ong says.
"His appointment will lend more weight towards ensuring RealVantage offers real estate investment opportunities with attractive margins to our investors."
"Wee Gee's experience and expertise in property development will be invaluable as we take on more greenfield projects. Wee Gee also brings with him a wealth of expertise to which the quality and rigorousness of our deal underwriting process will take on an even higher calibre under his watchful eyes."
Anthony Ang was formerly CEO of the first outlet mall Sasseur REIT and has held executive positions across GIC Real Estate, Vertex Management and the Singapore Economic Development Board.
Tan Liat Chew was previously chief financial officer of Sasseur REIT and ARA Private Funds, and senior finance director in Suntec REIT, Hewlett Packard and Schroders.
"RealVantage's true north has always been to do right by its investors. I am impressed with RealVantage's business model, a unified real estate investor platform that allows the man in the street to participate in large-scale real estate projects with smaller quantum investments," States Wee Gee says.
"RealVantage's mission of leveraging technology to make institutional-quality real estate investment accessible to a wider audience resonates strongly with me.
"I look forward to working closely with the team, and steering RealVantage's strategy forward alongside fellow distinguished industry veterans Anthony and Richard."

Rich Data Co (RDC)
Tim VanTassel has been appointed to the role of North America general manager, effective immediately.
VanTassel will lead RDC's launch into the North American market as a US entity and the execution of its growth ambitions in the market.
A highly respected software and analytics executive, VanTassel brings a wealth of experience to the role across pre-sales, advisory, direct sales, product management, implementation and customer success.
He joins RDC from NYSE listed data and analytics software company FICO, where he spent 14 years in senior executive roles, most recently as Global Head of Product Management, and prior to that, general manager of global credit and fraud.
In this capacity in these roles, he established and delivered on a multi-year vision for the direction of FICO's software and associated analytics businesses and oversaw North America's analytics delivery and direct selling into the Telco, Auto and Government sectors.
"We are delighted to welcome Tim VanTassel to the RDC executive team. With over 5,000 bank lenders in the United States there is immense potential for RDC to leverage our unique AI capabilities to create a direct impact to supporting lending innovation," RDC CEO and co-founder Ada Guan says.
"With Tim's impressive experience and deep connections within the industry he is ideally suited to lead our expansion into the North American market," Guan adds.
"RDC's innovative AI platform and proven intellectual property in small business cash flow analytics; its highly respected team; and its commitment to enhancing financial inclusion are world-class," Tim VanTassel says.
"The credit landscape is consistently evolving and I'm excited to bring my industry knowledge and experience to this innovative and creative team as it looks to expand operations into the North American market."

Tricentis
The company has appointed Damien Wong as senior vice president for Asia Pacific and Japan. Wong will be based in Singapore and is responsible for all aspects of the go-to-market strategy and for driving further expansion across the APAC region.
Damien joins Tricentis from Confluent, where he was vice president of APAC. Previously he worked with Red Hat as vice president and general manager across Southeast Asia, Korea, Hong Kong, and Taiwan.
He has also held business and technology leadership positions at companies such as Hewlett Packard, META Group and Accenture.
"Organisations around the world, are looking to continuous testing to help them speed time-to-market and minimise costs as part of their overall cloud and digital strategies," Tricentis chief revenue officer Ian Steward says.
"Damien has extensive experience across Asia Pacific and is ideally suited to help our customers realise value.
"We look forward to working with him and supporting the continued expansion of the APAC market for Tricentis," Steward adds.
"The opportunity for growth across APAC is significant and I am looking forward to leading the APAC Tricentis team as we work with our customers and partners to achieve exceptional outcomes," Wong says.
Trustees Executors
Akash Mittal has been appointed to the role of chief information officer to further enhance its capabilities in digital transformation and cyber security.
"Our customers trust us with their personal and financial information, and as New Zealand's longest serving trustee company it is our responsibility to protect what is important to them," Trustees Executors CEO Ryan Bessemer says.
"The appointment of Akash as chief information officer will assist with our ability to monitor, detect, and respond to increasingly sophisticated threats in a 24/7 environment. It will also ensure we are making continuous improvements to our cyber defence and response capabilities.
"Akash brings with him 15 years of experience in IT operations and digital transformation. He will be an asset for Trustees Executors as we focus on being a digital first business to serve our customers better."
During his career, Mittal has been responsible for managing IT infrastructure, cyber security, software enhancement and process optimisation.
In his role at Trustees Executors, Akash will be responsible for the formulation of a digital strategy and implementation of fit for purpose digital solutions.
Akash holds a Master of Science in Network Systems, Bachelor of Technology in Computer Systems and is SABSA certified. He is also a director on the National Board of the Australian Information Security Association (AISA).
"It is incredibly exciting to join Trustees Executors and to be given the opportunity to shape its digital transformation journey post-COVID-19," Mittal says.
"I look forward to working across the Company, its many stakeholders, clients and digital ecosystem."

Twilio
Reeny Sondhi has joined the company as chief digital officer, and Amy Holcroft has joined as chief privacy officer.
Both roles are new to Twilio, as businesses increasingly look to digital channels to drive customer engagement, making digital privacy and rights a top priority for Twilio and its customers across all industries and regions.
As Chief Digital Officer, Sondhi will lead the scale of all technology operations needed as the company focuses on scaling and becoming an end-to-end customer engagement platform. She is based in San Francisco and will report to Chief Operating Officer Khozema Shipchandler.
As Chief Privacy Officer, Holcroft will lead the team responsible for protecting the interests of Twilio's more than 250,000 customers and enabling their compliance with information privacy laws. Holcroft is based in London and will report to Twilio's Chief Legal Officer, Dana Wagner.
"Reeny and Amy bring essential experience to Twilio that will set us up for success as we scale and transform our business while protecting our customers' and their end users' digital rights," Twilio chief operating officer Khozema Shipchandler says.
"I'm thrilled to have both Reeny and Amy on board as key leaders as we continue to rise to this challenge."
"I have been a customer of Twilio for several years now and have admired how simple it is for developers to leverage the platform to build meaningful interactions with customers," Sondhi says.
"I look forward to leading the team that builds the technology operations that are core to enabling dependable and trustworthy outcomes for businesses and strengthening relationships with their customers. I'm excited to join Twilio as we continue to scale and reach new audiences," Sondhi adds.
"Privacy is a top priority for Twilio and its customers, and it plays a critical role underpinning the company's vision to be the leading customer engagement platform," Holcroft says.
"I am excited to have the opportunity to strengthen Twilio's commitment to data privacy and continue to build its reputation as a trusted custodian of customer data."

Veeam Software
John Jester has been appointed as chief revenue officer.
Jester will lead Veeam's go-to-market growth strategy and help build upon Veeam's position as the #1 provider of Modern Data Protection solutions spanning Cloud, Virtual, Physical, Hybrid, SaaS and Kubernetes.
"I'm extremely excited about the opportunity to join Veeam," Jester says.
"Businesses are supporting a rapidly changing and increasingly complex IT environment involving the adoption of cloud, as a Service and containers.
"On top of that, the frequency and scale of cyber threats, particularly ransomware, continues to explode. All of this increases the likelihood of severe business interruption.
"Veeam has demonstrated an industry-leading vision and strategy for Modern Data Protection that delivers the resiliency customers need to move forward with digital transformation.
"I am looking forward to working with the team to help deliver on this vision."
"Veeam's growth has been impressive, but we are scratching the surface of our potential," Veeam CEO Anand Eswaran says.
"While we have reported double-digit ARR growth and are already the leading provider in our space, we have scope to further accelerate share, expand our partnerships, and extend our presence in and value for every organisation as more enterprises accelerate their adoption of hybrid cloud.
"With John's vast experience working with partners and across all customer segments, and with a proven track record especially in both hybrid cloud and enterprise, I am excited about what we can achieve.
"With John on board, and working in conjunction with Veeam's stellar leadership team and customer-obsessed employees, I am confident we can take Veeam to new levels of leadership, market share and customer and partner success."

Zscaler
The company has announced the appointment of John Milionis as head of channels and alliances for Australia and New Zealand.
Based in Melbourne, Milionis is responsible for leading Zscaler's ANZ channels go-to-market strategy with a focus on growth strategies.
He will focus on enhancing partnerships with managed service partners, value added resellers, and systems integration alliance vendors in enabling secure cloud transformation for customers across commercial, enterprise, and public sector market segments.
Milionis joins Zscaler with more than 25 years of experience working in the enterprise IT, telecommunications, and consulting sectors across business development, channel partner enablement, and sales management programs.
"We are delighted to have John heading our ANZ channel partner community at this time. His extensive experience in sales, consulting, and channel development, will continue to drive our escalating growth," Zscaler head of alliance and channels APJ, Foad Farrokhnia, says.
"He also has terrific skills from his experience at several dynamic, growing companies where he was instrumental in scaling their channel partner network from the startup phase all the way through to regional expansion, Farrokhnia adds.
"As we move further in 2022 with brighter days on the horizon, leading Australian enterprises want to accelerate their investments in cloud security solutions," John Milionis says.
"I'm looking forward to working with our channel partners to enable our joint customers to break free from legacy approaches to security with the Zscaler Zero Trust Exchange platform, which provides true any-to-any zero trust connectivity.
"Zscaler is committed to helping customers accelerate their cloud security transformations and a committed, certified and highly regarded ANZ channel partner network will provide them with the best possible experience on their ongoing digital transformation journeys."